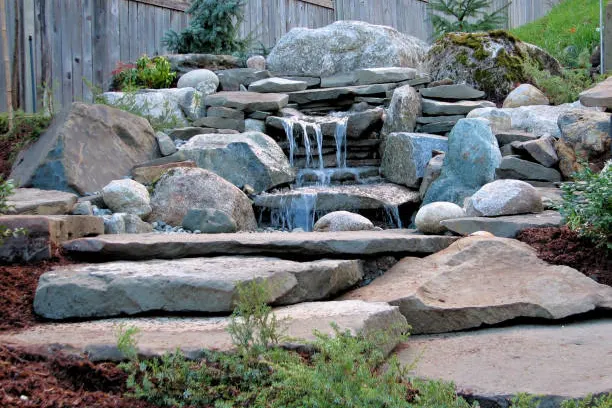 There are many things you can do to enhance the appearance of your yard. One of the most popular features to add to any yard has always been ponds or waterfalls. You can have a professional company come out and quote you a price on your project, or you can do a little research and build your own waterfall. With a vast variety of materials and natural stones to choose from, your personal style can be well-represented and give you a sense of accomplishment. So why not create your own peaceful, relaxing spot to enjoy year round.
The first step in building your own waterfall in your back yard is to choose the location for your creation. Once you find the perfect spot for your waterfall, you can start deciding on which materials you would like to use. There are many types of materials available to build waterfalls such as concrete, plastic, and vinyl, but the most popular choice is natural stone.
Natural stone gives your waterfall a simple, nature-oriented look and is much more resilient to weather, chemicals, and plant life than synthetic materials. Natural stone also helps in creating a back yard habitat for fish, frogs, birds, and any other small aquatic life that might come along. Choose natural stone to prevent algae and unwanted parasite growth in your water feature.
Natural stone is available in many different colors, shapes, styles, and rock types. There are river rocks, blue and pink quartz, granite and flagstone, and many choices for your specific waterfall and pond layout. Natural stone can usually be purchased in bulk from any landscaping or stone company. Once you choose your natural rock, you can start constructing your project.
You have to make sure that your water filtration system and pump system works and can create enough pressure to make an effective waterfall before you begin placing your natural stone. A natural design is always the most pleasing to the eye and usually looks more like a small hill coming from the ground than an unnatural man made structure, so its always a good idea to start from the bottom of your water source and build upwards until your waterfall is the desired height and flow.
Once your waterfall is built and running efficiently, you can begin to decorate the surrounding area with natural paving stones, which create a great place to sit and relax. Or how about building a rock bench with leftover rock from your waterfall project? Some people even make gardens around their waterfall and plant flowering aquatic plants to accent their waterfall and pond.
Natural stone is always a great choice to create a natural environment, and you can be sure that your back yard waterfall will withstand the test of time and the elements when built of natural stone. With a variety of colors and styles, natural rock can be used for ponds, walkways, even sitting areas near your brand new, self-constructed back yard waterfall.
---