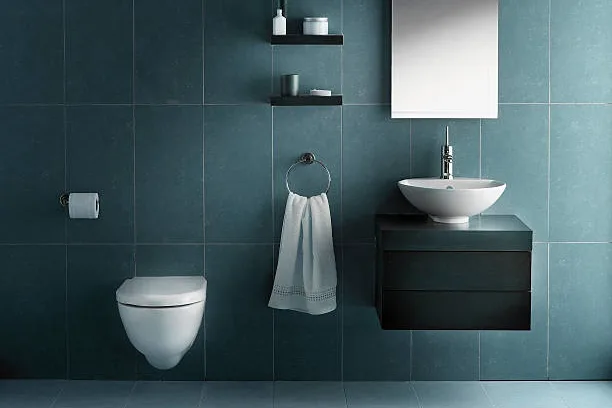 Wet rooms are an exciting bathroom concept – sleek and streamlined they are a spa-like haven, with minimalist fuss-free design.
Many people prefer them to a conventional bath or shower room. The lack of definition suits small spaces – so if you are stealing a few square metres from an adjoining room to make an ensuite then a wet room can be ideal. You may even need less room than you think. The streamlined arrangement is also easier to clean – no awkward corners or joins for dirt to get trapped in.
You need a really good plumber and tiler to achieve the perfect wet room look. Minimalism may look simple but it is unforgiving and you need a perfectionist to successfully execute your project. Clean lines are not easy to achieve but with the right team, you'll get the look you're after.
The most important thing to ensure is that the room is completely sealed and watertight. This means installing a watertight membrane (or "tanking") and then tiling the floors and walls, to guard against splashing and steam. A true wet room has no bath or shower tray to capture the water – just a drain in the middle of the shower area. Also make sure the shower area gently slopes away from the door to the room and towards the drainage hole. This will avoid flooding and heartache.
While carrying out essential "tanking" beneath the floor, consider installing underfloor heating. This can be done in a single small room and will add to the luxurious feel of the wet room. You will feel pleasantly warm underfoot and it shouldn't add too much extra cost to the project. You do need to plan for it at the beginning though. Once the tiles or stone are down, there's no turning back! And depending on the system you use you'll need a plumber or electrician to install it.
It's essential to choose non-slip tiles for the floor, as it will get wet. Natural stone, treated concrete, treated woods and Corian are all good options. Glazed tiles and marble are not! A good tile retailer will discuss with you the different grades tiles are given, according to how slippery they are when wet. This is particularly important if children or older people are going to use the wet room.
Wetrooms need to look open and sleek so install a wall hung toilet and basin to free up the floor and choose a plain 6mm toughened glass panel rather than a shower curtain to protect other areas from water spray. Alternatively, the shower area can be sectioned off by a tiled wall which can be curved or shaped, for a softer, organic look.
Wetrooms can get steamy – and using a mirror afterwards can be impossible. A heated mirror keeps clear, allowing you to shave or apply makeup straight after your shower. Also, a good ventilation system will reduce steam in the room. You don't have to be on an outside wall for this – an internal ventilation system can be installed by a good electrician.
Lighting in a wet room can really make or break the feel of the room. Decide whether you want dimmer lights. These can create a soothing ambiance but are also useful if you need to use the room in the middle of the night when you won't want the glare of bright lights. For a really luxurious look LEDs can be fitted, or coloured lights, or even changing coloured lights! You really can let your imagination run away with you.
Lastly think about storage. Cupboards with flat panelled doors can make storage "disappear" – the last thing you want in your sleek wet room is a chunky cupboard. And put away bottles and sprays – keep the minimum of toothbrushes and soaps on clear shelves to minimise their impact.
And there you have it! The perfect wet room!
---