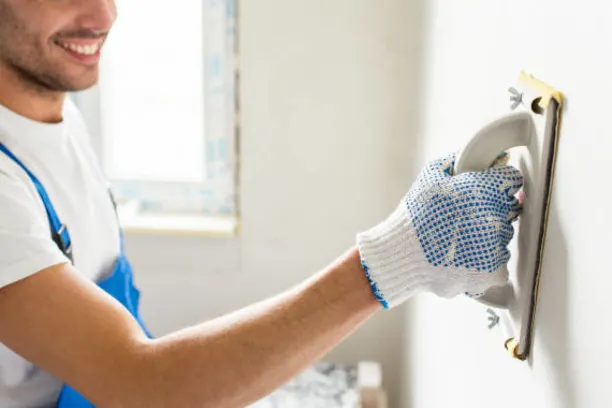 Interior Painting
All surfaces should be free of dust and grease. Use sugar soap or Tricleanium (I much prefer this more versatile product which is not based on sodium hydroxide – caustic soda) to remove grease.
Bare gyprock, timber or masonry surfaces should be undercoated. Broadwall areas should be prepared with the application of a water-based undercoat/wallboard sealer followed by 2 topcoats. Previously painted broadwall surfaces simply need to be cleaned prior to the application of paint.
In the case of enamels used on trim, the surfaces should be lightly sanded prior to the application of another coat or two of enamel. If you are changing your type of paint the old enamel should either be stripped off or undercoated.
How do I tell if my paint is oil-based or water-based? The simple test is to dip a rag in methylated spirits and rub the painted surface hard. All water-based paints (older poly vinyl acetates and modern acrylics) are soluble in metho so if the paint pigment rubs off onto the rag the paint is water-based. On the other hand (and provided the old paint isn't chalking) if you rub an enamel with metho you only clean the surface with no residue on the rag.
It is possible to use a water-based undercoat under enamel paints but is preferable to use like with like.
Exterior Painting
On broadwall exterior surfaces water-based paints are indicated. As a general rule these surfaces are painted with low sheen acrylic paint. Trim and fascias may then be painted with an exterior gloss acrylic. Exterior acrylics should be painted on to masonry surfaces without an undercoat – your paint will actually last longer than when undercoated. An exterior low sheen premium acrylic should last 18 years or so when properly applied.
Modern acrylic paints can be applied directly to bare timber as they contain a micro-block to prevent tannin bleed through. There is a proviso to this general rule in the fine print on your can of paint: tannin-rich timbers such as Oregon and western red cedar should be undercoated with a 3-in-1 primer sealer undercoat. As opposed to painting masonry surfaces an undercoated exterior timber surface will last slightly longer than one that is not.
New cement render: this should be left unpainted until the surface is no longer "green". Depending upon weather and thickness of the render this may take as long as 3 months. If you need to paint render before it has completely dry you might mix up a solution of 4 parts water to one part Bondcrete and apply to the surface. Bondcrete can be used as a universal sealer and undercoat.
Caution, many timbers such as fascia come pre-primed (and where cut the ends should also be primed to seal and prevent water entry and dry rot). Primer is not undercoat so such timbers should always be undercoated to ensure longevity of your topcoat.
Zincalume garden sheds, gutters and downpipes may be painted with water-based paints where weathered and free of rust. If rusted use an epoxy enamel such as Dulux Metalshield. Wire brush off any loose and flaking rust and paint with the epoxy. In most cases epoxies do not require undercoating. Where changing the colour of new Colorbond surfaces an acrylic will not adhere properly but the addition of Penetrol to an epoxy paint will do the job nicely.
Timber window frames may be painted with a gloss acrylic but where the windows are tight fitting there is a danger of the paint swelling and glueing shut. In such cases an enamel is indicated but traditional enamels do not last so I use epoxy enamels such as Dulux Metalshield. My last house on Sydney's northern beaches was used to test paint products and the epoxy enamels generated life spans similar to gloss acrylic.
The exterior of doors are best painted in enamels. If you wish to avoid using enamels then substitute the aquaenamels. Normal broadwall paints are too soft and sticky to use for such purposes.
---