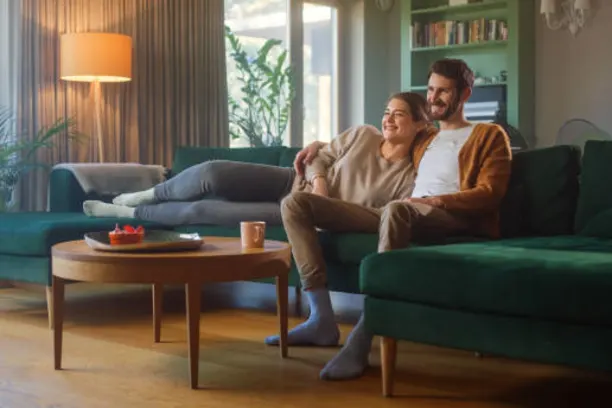 Settees and sofas are an integral centerpiece of any home, and therefore the right one is essential to ensure you get the most from relaxing in the living room.
The first point you have got to consider is the shape of your settee or sofa, what shape would work for your room. Corner or modular settees and sofas are a fantastic approach to make use of an awkwardly shaped living room. It is essential that the measurements are exact, you don't want to end up having settees or sofas that look cumbersome or worse still don't fit into the room available to you.
Many modern sofa designs incorporate a low back. While this is an excellent way to increase the sense of space in a small room, a low backed sofa won't offer much support, so make sure you take this into consideration. If comfort is your main priority, a sofa that has a high back is definitely the best choice, keep in mind that this can hinge on a rooms sense of space, and is better used in a room with high ceilings.
The fillings for settees and sofas are a matter that many people don't consider when choosing furniture. Foam-filled cushions are incredibly supportive and bounce back into shape after being sat on, while feather-filled cushions are the softest option. The feather option will require regular plumping to make sure that it keeps shape. Additionally they tend to be more expensive than foam filled sofas. Therefore, cushions created using a combination of foam and feathers tend to be your best option.
Another decision you'll must make is whether to decide on a fabric or leather sofa. You may find that there's more choice with regards to design and colour if you pick a fabric settee.
Quality leather is a very hard wearing material, and just like a fine wine, it'll improve with age. You need to make sure that leather is kept at least 30cm away from radiators or other sources of heat, or the material could become scorched or cracked.
If you frequently have people to stay and the lack of beds presents a challenge you might decide a sofa bed would be the best choice. In times gone by the generalisation was that sofa beds were ugly and uncomfortable, not managing to serve effectively as either a bed, or sofa. But over recent years there has been considerable advancements in the design of sofa beds and a few may even include a mattress. Just shop around to get a good one, and be sure you have enough space to extend it.
If you are looking to furnish a property for rental you might have other requirements to fulfill. Whilst you will be wanting settees and sofas which will ensure your tenants are comfortable you'll have to expect a degree of wear and tear. In view of this you might wish to pick a sofa constructed from a hard wearing fabric that can be washed easily. Plus it is essential that settees and sofas you purchase to furnish a rental property adhere to the Furniture and Furnishing Fire Safety Regulations.
---