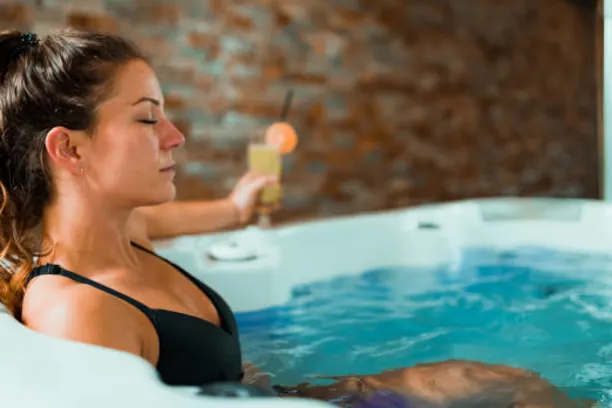 Interested in creating a home spa? Many people go out and buy their first hot tub without giving enough thought to where they will put it, what it will be used for, and how they will handle maintenance and drainage. Luckily, with the right attention to these details owning a hot tub or spa can be a great way to add some relaxation to your home. Read on for some ideas on what to watch out for and consider when you buy your first hot tub or spa.
Where Will You Put It?
There are several things you need to consider when deciding where you want to put your new hot tub. One of the most important concerns when placing your hot tub is weight. The spa itself may be light, but consider the weight it will have once you have added a lot of water and several people. For this reason, hot tub manufacturers generally encourage people to place their new spa in an outdoor space on a cement slab. Indoor spaces can be possible, but only consider this option with the help of an experienced contractor who can make sure the area you want to use can handle the load. If you do choose an outdoor location, privacy can frequently be a concern. Consider the visibility of your hot tub space and make sure you have the means to make your hot tub location comfortable and private.
What Is It For?
Hot tubs and home spas come in several different styles that may be better suited for some purposes. If you want your hot tub to serve as a hang out for multiple people, you may want to go with a style of tub that encourages groups to sit down and relax. For someone with back problems, there are lounging styles of hot tub that are designed to maximize the comfort of one person laying back. Budget and space can restrict the size of your tub's size for hosting larger groups, but both styles of home spa can come in a wide variety of sizes to fit your space.
Can You Take Care Of Your Spa?
It is important to think about whether or not you will be able to handle the maintenance requirements of your hot tub before you choose a location and size. If your tub is outdoors, placing it under trees or right next to your house might lead to debris falling into the water. Wherever you put it, you need to make sure you have a faucet near by for filling your tub. Think about where you want your tub to drain as well, and whether you have time to handle cleaning it.
With the right research and preparation, anyone can end up with the home spa or hot tub that they desire. Remember to think about all the aspects of your potential purchase before you buy your new tub to make sure you end up with exactly what you want. Owning a spa can be a great way to get some needed rest and relaxation at home as long as you buy a tub that will meet your needs.
---