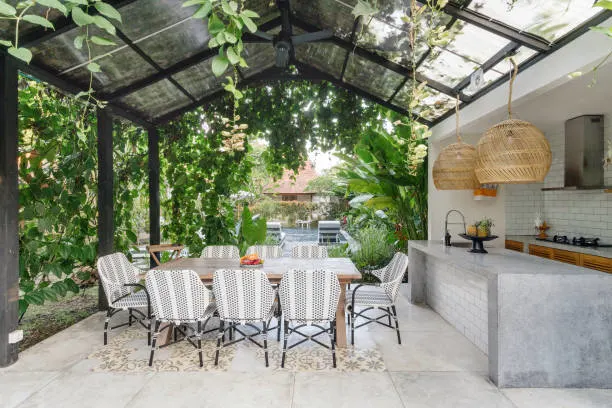 Outdoor kitchens are meant to be fun. After all, you are outdoors enjoying the great weather and some great food too. However, in order for your outdoor kitchen to be successful you need to be smart about the plans that you make while designing it. With this being said, here are some things that you should keep in mind.
Strategic Placement
Your outdoor kitchen should be strategically placed in relation to the other elements that you already have in your backyard. This is important because you will want to have a natural traffic flow.
Easy Access
Another word about strategic placement- Make sure that you have easy access between both the indoor and the outdoor kitchen. Of course, you also don't want to place the cook in an isolated area. If you are worried about smoke, look into a barbeque that has an exhaust fan on it. This will allow you to have lots of grill-side seating.
Incorporating a Refrigerator
The trend has been to recreate the feel of a traditional indoor kitchen outdoors. If this is your intention, then you will want to make sure that you have an outdoor fridge. You will also want to make sure that you have one if you plan on having a mini bar. It is a good idea to have your sink and food prep area between your fridge and grill.
Incorporating a Bar
If you are going to have an outdoor bar, you should give it a touch of authenticity by incorporating beer dispensers, wine chillers, martini bars and an icemaker. You will also want to build an island for your guests to sit at and don't forget the little added touches like a bottle opener or a towel holder.
Your Barbeque
Almost every outdoor kitchen includes a barbeque. There are the traditional charcoal and gas barbeques available but there are also hybrid barbeques as well. While they are more expensive, they are more versatile too. Electric barbeques are also available for your consideration. You may balk at this idea until you consider just how many more things this will allow you to be able to cook outdoors.
The Price Tag
Nothing in life is free and this is also true for your outdoor kitchen. There are some budget friendly options available such as portable refrigerators, pre-fabricated kitchen islands and using concrete or brick instead of stainless steel or tile. You will need to take some time to do some research online. Once you do, you will be able to see that you can actually design an outdoor kitchen that will fit any budget.
A Final Word on Designing an Outdoor Kitchen
People want versatility so that they can cook everything from American to Indian and even Asian cuisine. This is easy to do today since both gas and electric barbeques mimic indoor cooking so that you are no longer stuck just cooking steaks. Now you can have an outdoor lobster bake or you could even install a wood oven to make pizza in.
---