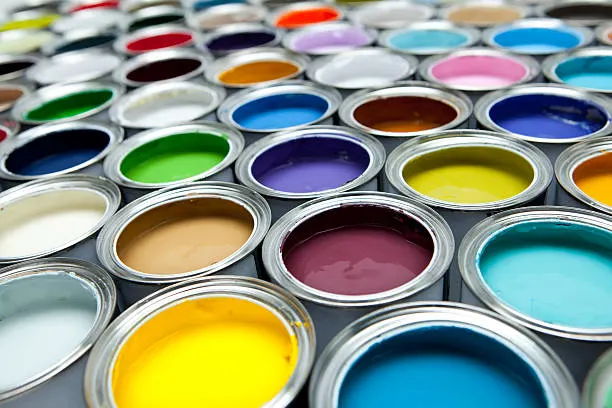 I know, I know, no one wants to hear about oil-based enamel paints. So why do we still sell them and the paint companies make them? The answer is simply they have their place.
An oil-based paint is much harder wearing than a water-based paint. It also simply finishes and looks better because of the self-levelling properties of the resins and the fineness of the milling of the pigments. The bond of an enamel paint to an intricate and angular surface is far superior to that of water-based paints due to the different properties of the molecular structures.
That means enamels are great for doors, architraves, shelves, furniture and window frames. Water-based paints often jam tight fitting windows because they are elastomers and swell in the heat then the two painted surfaces stick.
If you still don't fancy using enamels use an "aquaenamel" paint. These are blends of oil-based and water-based resins with tricked-up surfactants making them water-missible, ie, your brushes wash out in water. I have a preference for the Duralex Trimaster brand.
One question I'm asked a lot is "is using an enamel to paint a cot safe". I certainly painted my kids' cot in an enamel. Enamels are really only toxic when in their wet state. Once dry (24 hours for cure), enamels are safe and when my kids were teething and gumming the paint off the bars of the cots I was happy that enamels tend to come off in small flakes. Water-based paints tend to come of in larger pieces. On the other hand I advise pregnant women to stay away from the VOCs (volatile organic compounds) outgassing from enamels especially during the first trimester.
There are some myths about oil-based paints. They are slow to dry. Actually an enamel cures two or three days faster than an acrylic but an acrylic is surface dry to the touch mush fasted than an enamel. Brushes are harder to clean. It's actually faster to remove enamel paint from a brush with turps (and you get nearly all of it) than it is to remove acrylic paint (and heaps sticks under the ferrule of the brush) from a brush with water. It's just that using turps is a hassle! The smell. That's true but you can minimize the smell by placing large bowls of water around the room you are painting in then changing the water every two hours. Water acts as a sink for VOCs.
The gloss level on a high gloss enamel is about 98 – 98% when measured with a gloss meter compared with 78 – 84% gloss levels typical of acrylic gloss. These days semi gloss enamel sells equally as well as high gloss.
Broadwall paints will almost always be water-based (acrylic). A premium exterior low sheen acrylic house paint will last a minimum of 18 years when properly applied and a gloss acrylic longer. By contrast an ordinary gloss enamel paint in full sun will be nearly flat in a relatively short time. If your windows aren't too tight-fitting you might do the exteriors of your window frames in gloss acrylic (which has a gloss level about 20% less than that of a high gloss enamel).
Instead of using an ordinary enamel outside I have long been using epoxy enamel paints instead and have been pleased as the longevity has rivaled that of gloss acrylic. The epoxy enamels are marketed primarily for painting metals – often without priming or undercoating – but I have found the added epoxy resins help the paint last much longer and more versatile as the epoxy gives extra sticking power. Water-based paints are suitable for weathered Colorbond and galvanized or zinc plated ferrous metal where there is no rust present. Where there is rust use the epoxy enamels.
---