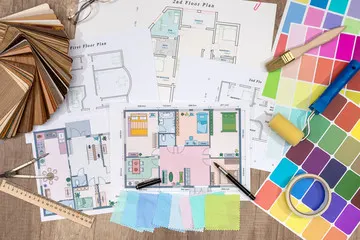 It doesn't take a pricey interior designer to give an average-looking room some extra drama. As the French say, vive la difference: If one wall in a room is painted a bold, rich color while the others remain light and neutral, the space will have a whole new feel to it. That deeply hued, statement-making wall is often referred to as an accent wall. Sometimes changing a single wall packs more punch than repainting all four; as an added bonus, an accent wall requires just a quarter of the work (and paint).
With nothing but paint, a roller, a tray, and painter's tape, you can finish a moderately sized accent wall in two hours. It's easy to repaint one wall, which makes a project like this perfect for renters. Many people seem to be choosing as an accent color these days, but don't simply jump on the bandwagon. It has to fit the rest of your space; if it doesn't, your accented room will be a design dinosaur soon enough. Avocado green was the "in" color a few years back, but it won't win you any style points today.
Some accent walls are intended to radiate a certain kind of energy. A bright orange wall could imbue a room with sunny vibes, while a pink wall might cast a peaceful, calming spell. Like a vertical rug, an accent wall can deftly spotlight a particular part of a room, such as a reading corner or dining space. If the room in question is oblong, the farthest short wall from the door is the best to accent. Once painted, that wall will appear closer, thus visually adjusting the room's shape.
You can achieve a striking contrast between your accent and primary walls even if their colors are related. If the room has light green primaries, a green that's two or three shades deeper might make a splendid accent color. Another neat trick: Painting the ceiling, that frequently overlooked 'fifth wall', a lighter shade of the accent color makes it seem higher. In contrast, making the high ceiling of your dining room a dark shade like, say, Pompeiian red gives the space a snug, enclosed feeling.
A further option is basing the accent wall's hue on the room's current furnishings, like pillows or drapes. However, don't choose a color that's overly represented, like that of the upholstery. Too much of a good thing floods the eye rather than simply delighting it.
Almost any color can succeed when used as an accent; it all depends on the rest of the room. Chinese red behind an Asian-influenced stairwell is a smart move; dove-gray walls and a dark blue accent wall creates a cool, sexy atmosphere. An accent wall in Bordeau brown, which contains some purple, is a fitting response to primary walls colored like powder sand. White primaries give you carte blanche, so to speak. Muted green, in a shade that evokes Japanese tea, is a nice way to go, but there are countless others.
In general, an accent wall should serve as a backdrop for a focus point, like the headboard of a bed. A noteworthy piece of furniture, a favorite artwork, or a distinctive section of a room's architecture can play the role as well. When in doubt, give the room a centerpiece, such as a plant, vase, sculpture, or set of framed photos.
Avoid making your accent wall compete for the viewer's attention with a point of focus on a primary wall; a room can only have one star attraction, after all. If you have a treasured collection of black-and-white family photos, an accent wall can "frame" them beautifully. A wall painted in a warm color seems to approach the eye, making a large room feel cozier; a cool color, as you might predict, appears to recede from the eye, creating a greater sense of space.
Spreading your accent color across more than one wall is an option, too. By painting one-third of one wall and two-thirds of a neighboring wall in a deep hue, you can achieve a bold, wrap-around look. An accent wall doesn't have to be a solid color, either. You might create a pattern with wood strips or molding; alternatively, you could leave a vertical white space for an artwork in the middle.
Even more audacious looks are possible. A mural-as-accent-wall gives a room a unique and unforgettable character. The bright sheen of gold, silver, or copper leaf is almost regal in its glamour. (If you're short on funds, get a similar effect with metallic paint.) Want a truly antique style? Go with a faux finish that imitates stone or Venetian plaster. Even a black accent wall needn't evoke The Addams Family, so long as you keep the room's furniture, floor, and ceiling light. Furthermore, the first wall you see upon entering a room doesn't have to be the accented one. And while an accent wall usually lacks doors or windows, the right French doors or picture window can make a terrific focal point.
Accenting a wall involves special considerations. If the color is dark, use a tinted primer beforehand. Also, the accent wall's sheen , semi-gloss, for example , should match the primaries. You'll want to paint some test patches to see how the color looks once it's dried. If it's to your taste, proceed with confidence. Remember that the typical paint can covers about 350 square feet; make sure to measure your wall (length times width, folks) before you buy.
One easy way to boost your accent color's impact: Pick a wall you can see from a neighboring room. If you have guests, splurge on flowers that match your accent color. Don't wait until the wall is painted to find suitable decor, however; desperately seeking just the right throw rug is much more stressful than adjusting the color of a single wall.
An accent wall isn't a facelift for a room; it's the kind of subtle improvement people may take a few minutes to notice. Once they do, though, you'll be raking in the compliments and wondering why you never thought to do it before.
---