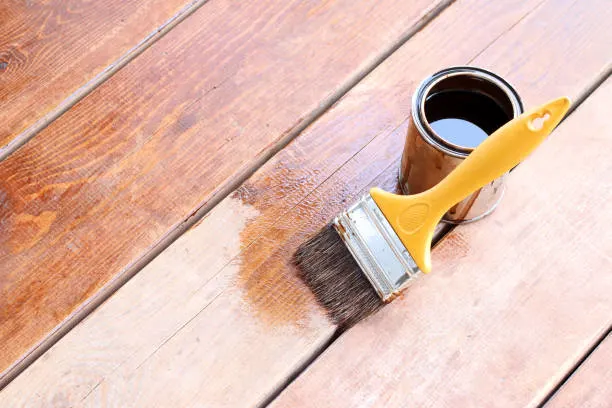 You pay a lot of money for a good timber deck so you should not begrudge spending a bit of money to protect it, beautify it and extend its life.
Decking finishes (excluding paints) come in two categories, oil-based (which is also divided into finishes which penetrate completely and those that sit on the surface) and water-based.
Oil-based finish
In the first category of oil-based finishes are traditional decking (timber) oils which are made primarily of linseed oil and pure gum turpentine with pigmentation. This class of finish is becoming increasingly rare as the paint companies market more user friendly products. Traditional decking oils deeply penetrate the timber feeding and re-nourishing the timber and replacing the moisture content leached out by the harsh Australian sun. The application of such oil will help rectify splitting, warpage and shrinkage and may be considered prior to the application of other finishes allowing time to fully absorb. Such a decking oil will protect your deck for a year.
The next class of oil-based finishes are decking stains which are resin-based fluids containing pigments that fully absorb into the timber leaving no surface film. Of all decking finishes this class tends to have the longest life before the product deteriorates and the timber "greys".
A further class of oil-based finishes are those that sit on top of the timber. Marine varnish is one such but it would be my last choice. Two years after applying three coats the product will be "crazing", ie, breaking up.
A popular choice is the acclaimed Sikkens Cetol range of decking finishes. Cetol is a microporous pigmented resin that leaves your deck looking like a ballroom floor. Microporous means the whole surface of the deck can "breathe" and, more importantly, vent out excess water vapour. It has a satin finish and must be applied as three coats with a natural-bristled brush. Sikkens makes a dense Dek-ezee long handled brush that is perfect for the job. It should last 2 – 3 years but if you're canny an extra coat each year will extend its life pretty indefinitely. If you've left your deck too long between coats Sikkens requires minimal preparation as it does not crack or peel – it just dissipates into the air – so re-applying simply means a good clean then apply.
Water-based finish
Water-based decking finishes tend to sit superficially on the surface of your timber. They are quick drying and easy to apply with a brush, roller or lambswool applicator. They make your deck look good in one day and are now dominating the market. They also remove OH & S and cartage worries for the suppliers.
The highest quality water-based finish is arguably Intergrain Untradeck which is made from premium resins. Some water-based finishes make a year and the best between one and two years.
An oil-based finish will generally be harder wearing and with a longer life than a water-based finish.
---