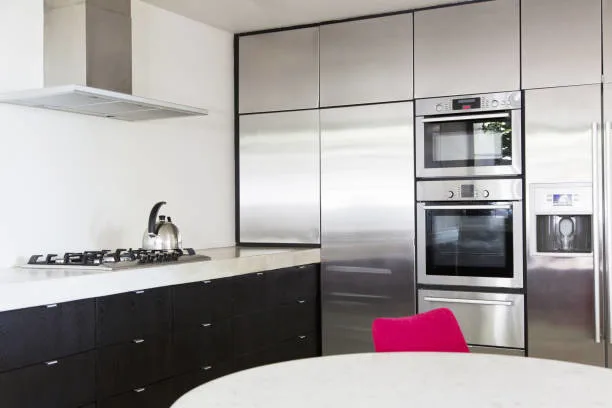 If you are remodeling your kitchen, you may be wondering what color you should go with for the appliances. There are several reasons to consider stainless steel appliances, which are some of the most popular kinds. Of course, these kinds of products are usually among the most expensive, but you will likely find them worth the cost if you like the look. Find out why most homeowners with stainless steel appliances are happy to pay the extra price.
One of the best reasons to consider this type of appliance for your kitchen is that it is easy to find matching products. For example, you can typically find a stainless steel refrigerator, microwave, dishwasher, and oven. Of course, if you do not want to pay for all your appliances to be made of this material, you can still match it. This is because there is imitation stainless steel available, offering the same look for a lower price. Additionally, most items that are simply made of metal match this look pretty well, which means that your toaster oven, toaster, coffeemaker and can opener can all match the rest of your kitchen without actually being made of stainless steel.
Of course, this kind of material is known for its high quality, as it is durable. In fact, many professional chefs outfit their kitchens with stainless steel appliances, as they are known for being longlasting. In general, they are worth the higher price, though of course you can always go for used or overstock products if you want the high quality without the matching price.
Finally, one of the biggest details of stainless steel appliances is that they can make a kitchen look modern, even if the countertops and cabinets are outdated. This means that you do not have to make over your entire kitchen for it to look newer, saving you money in the long run. Whether your kitchen is large or small, new or old, you can give it a stylish look by going with this kind of material.
Of course, if you prefer a traditional look in your home, and tend to have more convention decor, stainless steel appliances might not suit you. In this case, you might be more interested in black, white, or beige, but if you are ready to get an updated look, you now know what material to choose for your kitchen.
---