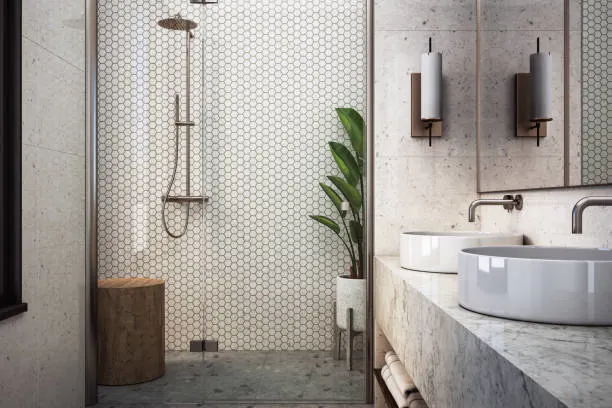 Our once beloved bathroom will one day not look as great as it did when we first laid eyes on it. When this happens, it's time for an upgrade and time to renovate. In time, we will all need to face the fact that our bathroom needs an update in order to keep the overall bathroom looking fresh and new. A bathroom remodeling project requires careful planning ahead of time. Always have everything ready before you do the actual remodeling so that you can be sure you have everything you need to finish the job. Always take the time to decide all the details of the items to be installed during your shower remodeling project. There are so many different components and options available that it can be quite a daunting task to try and decide, but doing so will make the completed remodeling project look very nice. Because there are so many different options for you to decide on, trying to pick out the right one can be quite a challenge in itself. By having the right idea for how you want your bathroom shower to look like, you can have a smooth and successful remodel.
To begin, let's discuss what some of your options are for the remodeling of the shower itself. Some people would prefer to have a corner shower stall installed and then have a separate bathtub installed. Others would simply just want a shower stall and no tub to give their bathroom more space. If you have a shower or a bathtub and want to convert one into the other, then it'll require a little bit more work trying to match up all the plumbing connections. You can buy premade shower kit to install yourself. These are usually the easiest route to give your bathroom a more updated look. A lot of these kits can be ordered online. All of these shower kits will be made so that they can be installed into a corner of your bathroom where the correct plumbing and connections are. A bonus to these kits is that they will contain pretty much everything that you need to complete the look of the bathroom shower. Things such as rods, curtains, and knobs are all included in these kits.
Because premolded shower kits can sometimes look like a cookie-cutter kind of thing, some people opt to go with tiling their own shower stalls. This gives you the custom look and feel to your shower and bathroom overall. If you want o lay down your own tiles, you'll first have to make sure that the area is cleared of any other type of flooring or existing tiles. When installing tiles for your shower, you'll have the option of using a preformed one piece tile wall. These are cost effective and gives the impression that you've used individual tiling. Tile patterns are great, but you won't be able to have any kind of custom design tile patterns if you choose to use them. Choosing which route to go with is entirely dependent upon what kind of look you are trying to achieve and how much of an investment you are willing to making in your shower remodeling project.
The next thing that you need to consider in your shower remodeling project are the shower flooring. If you are having a bathtub installed with a shower head add on, then obviously you won't need to worry about shower flooring, but if you have a stand in shower then this is something that you will have to think about. Many times people will want their showers to have the same flooring tiles as those found on the shower walls. You could also opt to have the shower walls and the shower flooring be contrasting colors and textures. There are so many different choices and options to choose from. How you want the shower and bathroom to look in the end is all up to you.
Always be sure to plan out everything so that you can save yourself a ton of headaches in the long run and have a very successful remodeling project. Always be sure to budget out your remodeling project so that you know for sure what amount of money you're going to spend on it.
---