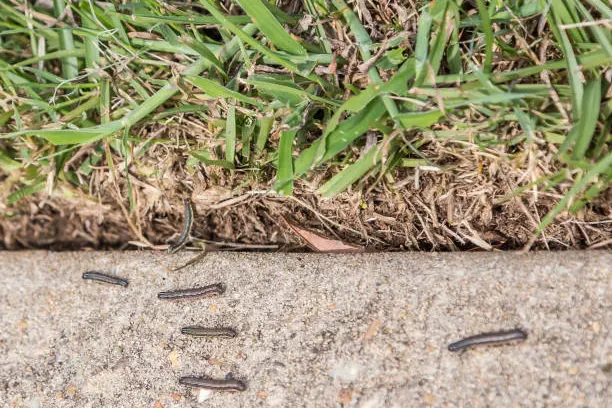 The worst pest you can get in your lawn is known as the army worm. It is actually a multi-legged caterpillar. If you see signs of army worm you must act quickly as they can do enormous damage. The same treatments for army worm also kill curl grub and African black beetles.
The first sign of army worm will be browning off of patches of lawn. You might notice circular patches that grow outwards or unusual bird activity in the early morning (the early bird catches the worm!). This first sign can be confused with a fungal problem known as "dollar spot". Army worm is more prevalent. To confirm the problem is army worm part the roots of your lawn where the brown patches merge with green and have a look for dark coloured caterpillars with longitudinal stripes. If unsure leave a pile of wet newspaper on the same area at night and turn over in the morning. You will find army worms hiding under the newspaper.
If confirmed move quickly. They do! The best and fastest-acting treatment is to spray or shake on Lawn Grub Killer based upon an old fashioned insecticide called chlorpyrifos which is a fairly toxic chemical once used to treat termites. This product must be handled with care but is remarkably fast acting. There are other less-toxic insecticides some of which are based upon imimdacloprid better known as the active ingredient in Confidor (and vet-supplied flea and tick killers for pets).
The peak season for army worm is summertime into autumn. If a neighbour has recently had a new turf laid down keep a close eye out. Most of us believe the army worm pupae come with the soil of newly laid lawn.
---